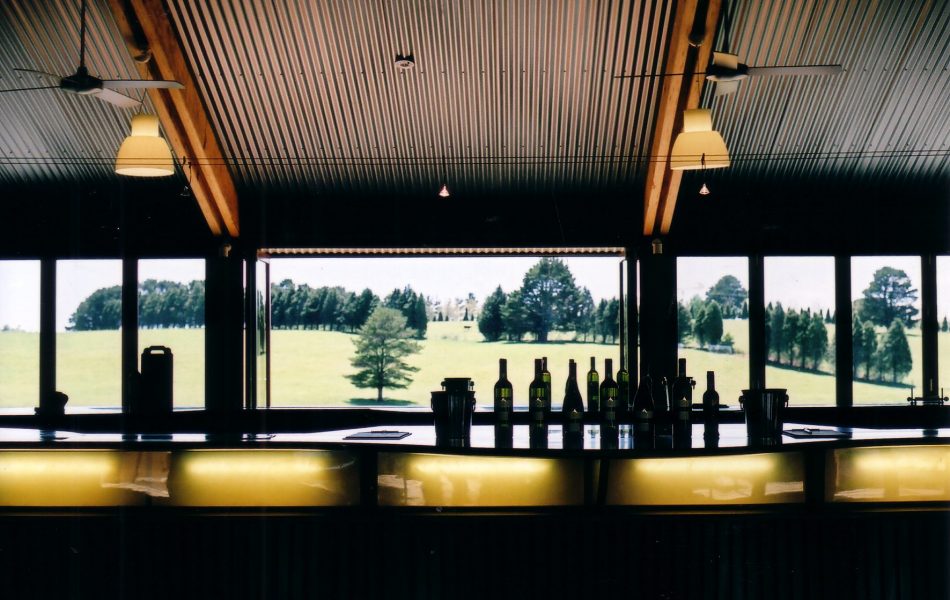 Southern Highlands Winery
The winery and vineyards are located on the corner of the Illawarra Highway and Oldbury Road, Moss Vale. The entry road winds through the vineyards to the crest of the hill where two storey buildings were cut into the hill to minimise the visual height. At the same time, to create a precinct and maximise views out over the vineyard, facilities radiate out from an extended curved wall. Wine storage areas are tucked into ground level, naturally maintaining a constant temperature in the cellars.
Exterior pre-cast concrete panel walls protect and offer a robust rural character. Internally, chunky recycled hardwood posts, expressed galvanised steel connectors, hardwood timber trusses and sculptured struts reinforce the country farm shed aesthetic. Exacting environmental standards and systems governed the design and placement of the  wine making equipment and waste water ponds.
The Wine Tasting area includes a refined timber bar with undulating batten detailing to echo the barrel shaping cooper's art. From here guests enjoy sweeping views across the vineyard and can also look down to the production area below.