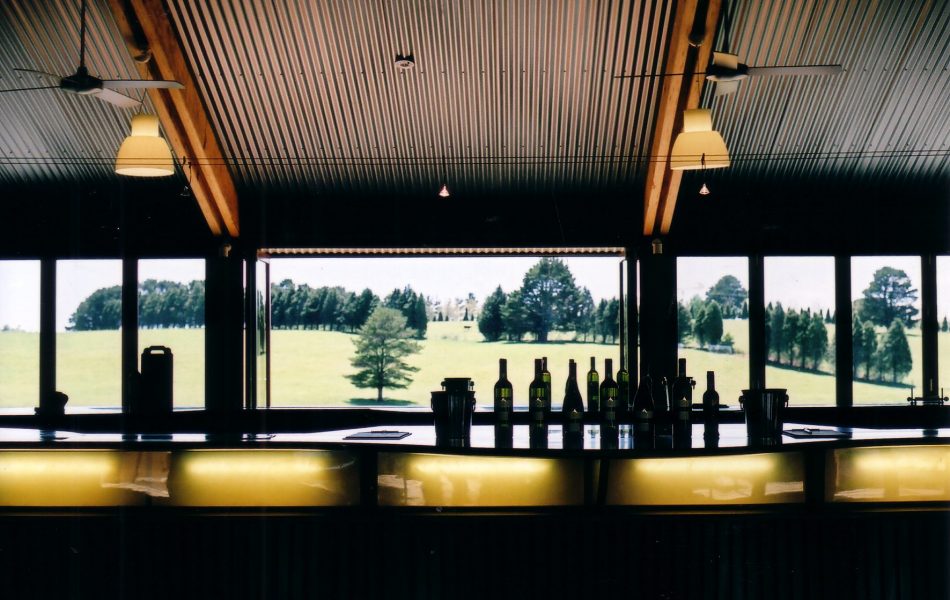 Southern Highlands Winery
Located on the corner of the Illawarra Highway and Oldbury Road Moss Vale, the first stage of the winery and vineyards were constructed on a greenfields rural site. The entry road winds thought the vineyards to the crest of the hill. Two storey buildings were cut into the hill to reduce the height as viewed from the main road. At the same time the visibility is enhanced in a horizontal direction by radiating the facilities off an extended curved wall. This strategy also allows for the wine storage areas to be located partially below ground level, helping to maintain a constant temperature.
Its rural character is achieved using exterior pre cast concrete panel walls with an internal structure of chunky recycled hardwood posts, expressed galvanised steel connectors, longitudinal timber trusses with a multi directional hardwood strutting system.
Located within the rough timber structure of the building is the Wine Tasting area. The refined timber bar has an undulating batten apron which echoes the barrel shaping art of the coopers trade. The hardwood Ribbon Gum counter has inset panels of reconstituted stone. From here guests enjoy sweeping views of the vineyard and look down to the production area within.
Exacting environmental standards and systems governed the design and placement of the wine making equipment and waste water ponds.